Dental Implants at Ripley Dental Surgery
Dental implants are perhaps the healthiest and longest lasting tooth replacement option available today. Patients tend to prefer a Dental implant over the other options because it is the option that most resembles and acts like a natural tooth.
A dental implant is basically a titanium rod that fuses with your jaw in a process called osseointegration. The first step towards a dental implant is to organise a consultation with our friendly Dentists where we will discuss all your options, costs and check if you are an appropriate candidate. X-rays may also be taken at this visit. The process from having a missing tooth/teeth to having a full set of teeth again can be a long journey. However, at the end of that journey we find that patients are extremely pleased and grateful that they can smile, speak and eat with confidence.
Teeth can be lost for a variety of reasons ranging from trauma (often during sports or an accident), infection caused by decay, fracture from overloading the tooth, gum disease which can cause the tooth to gradually become loose and fall out, and some people are unfortunately are born with some of their teeth missing.
What is a dental implant?
A dental implant is a titanium screw that acts as an artificial root and anchor point to replace missing teeth.
As titanium is biocompatible (meaning the body does not recognise it as foreign and reject it) bone grows around the dental implant. The dental implant also has an internal thread that can readily accept a variety components to solve a range of different dental situations.
Why a dental implant?
Often a dental implant can be the best option to replace a failing tooth. A dental implant can completely replace a severely compromised and failing tooth instead of trying to salvage it.
What makes dental implants such a favourable treatment option is it versatile in how it can replace teeth. Dental implants can replace single teeth, multiple teeth with implant dental bridges and even help drastically improve loose dentures by acting as anchor points which then allows the dentures to "clip" into a stable position.
Traditionally there were only two options to replace missing teeth.
Wearing a removable denture.
Shaving (often healthy) teeth on each side of the missing tooth and making a traditional dental bridge.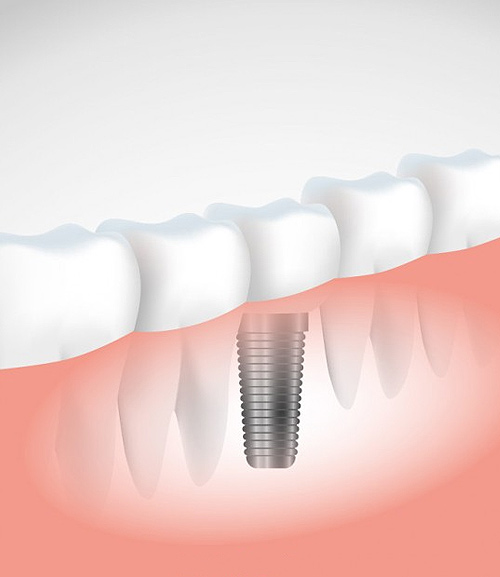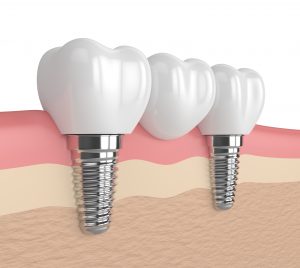 Disadvantages of Dentures:
Often uncomfortable to wear, especially if you are only missing one tooth as there is a minimum amount of "bulk" required to fabricate a denture.
Removable
Will need some form of repair, adjustment or replacement every few years especially if treatment is needed to a tooth involved in holding the denture.
If there are no teeth to anchor the denture, retention (the ability for the denture to stay in the mouth) is solely reliant on the gums.
Disadvantages of a traditional tooth bound bridge:
The need to shave teeth on each side of the missing tooth/teeth, if a problem occurs with the traditional bridge it may result in loss of the bridge and problems with the teeth on each side of the missing tooth.
If you have more than one missing teeth, a bridge may put excessive stress and load on the remaining teeth that they are attached to.
What is the cost of a dental implant?
The cost of a completed single dental implant starts from $4000 or $55 on an interest free, deposit free payment plan to eligible patients.
The price may vary depending on many factors such as the need for bone grafting in cases where there is not enough bone or if there is an implant crown in an aesthetic area. Before any treatment starts the costs are always discussed with you before hand so you know exactly how much your dental implant treatment will cost from start to finish.
We  offer a FREE dental implant consultation with one of our highly experienced implant dentists.
Our patients can rest assured that we only use quality reputable companies for our dental implant components and crowns.  All dental implant crowns and bridges are made in house or by an Australian laboratory. Many of our competitors choose to send the crown overseas to cheaper overseas labs to reduce costs. As we have no control over the quality or materials used overseas and they are not bound by the same strict laws here in Australia, we have chosen to keep everything either in-house or in Australia.
What is the next step?
If you would like more information about your specific situation we encourage you to book a FREE consultation with one of our implant dentist.
If  after your initial consultation you decide to proceed with the dental implant treatment you will be required to take a cone beam CT (3D xray) to ensure we can accurately plan your case with you. Cone beam CT Scans will incur a cost.
*Results for each individual case will vary. The information provided above is general information only. For advice regarding your specific personal situation please consult with your experience implant dentist. All surgical and invasive procedures carries risks.